Hello from Temple Ohev Sholom Sisterhood!
The mission of Sisterhood is to further every interest and policy of the Temple; to cultivate the religious and civic interests of its members; to promote fellowship among its members; and to advance the program and purposes of the Women of Reform Judaism (WRJ). WRJ is affiliated with the Union for Reform Judaism (URJ), which is the governing body of the Reform Jewish movement in North America.
Sisterhood also runs the temple's gift shop.
The following is a list of our Executive Board and committees:
temple-ohev-sholom-sisterhood-board-and-committees
If you are interested in joining or have any questions, please contact the temple office or our current Sisterhood president.
For Sisterhood's Membership Application and instructions, please click here.
For information on Sisterhood's Tribute Cards, please click here.
Sisterhood is so excited for all its fall activities.  
With the help of lots of volunteers, we will be selling books and building the Sukkah on Oct. 9th and we will take it down on Sunday, October 23rd.   We will meet at 9am both days.   To volunteer to help on one or both days, please let Jeanette or Reyna know by emailing at
[email protected]
or
[email protected]
.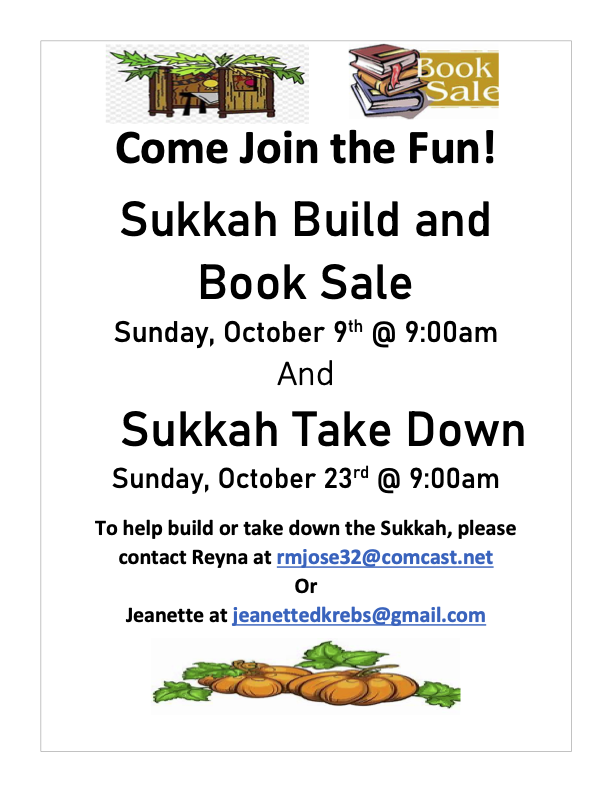 Soup and Study will take place on Friday evening, Nov. 4th.  More information will follow in the coming weeks.  
Thinking ahead…please mark your calendars for the Symons/Rose Book Review which will take place on Thursday, Nov. 10th.  Plans are still being made for our dinner menu and time, but more information will follow soon.  The author presentation will take place at 8:00pm.  We will be welcoming author, Cathy Barrow who will talk about her book, Bagels, Schmears and a Nice Piece of Fish.  Please RSVP to C
arol
Liebman
at
[email protected]
.
 All are welcome to join Sisterhood for this fun program.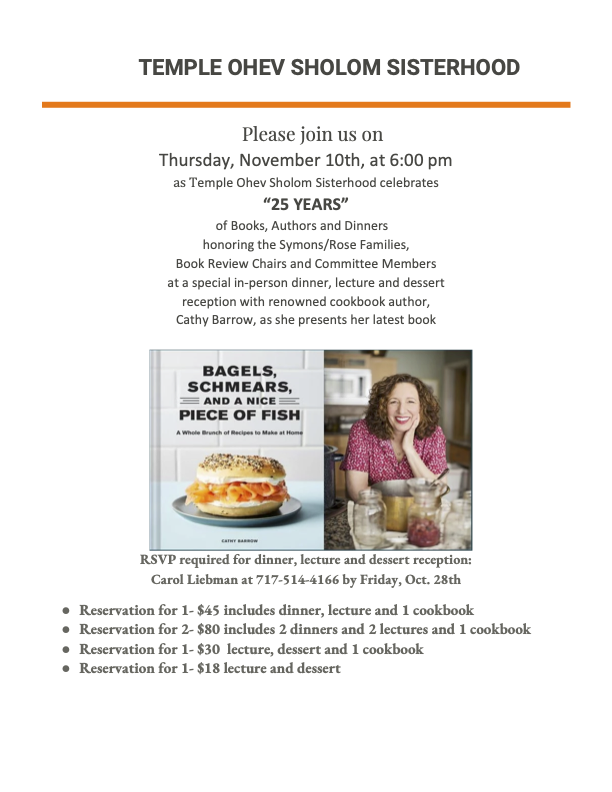 If you have a college student and you would like Sisterhood to send a gift card to them on certain Jewish holidays, please let us know and we can make that happen.  
Lastly, if you have not sent in your Sisterhood membership form and dues for this year, please send a check (made out to T.O.S.S.) for $36.00 to Sarah Brown, Sisterhood's Financial Secretary.