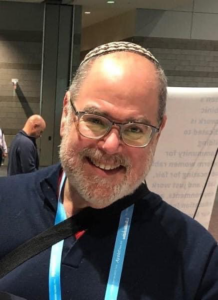 Marc Kline
Rabbi
[email protected]
Marc Kline retired his law license to go to Rabbinical school. Now, over 30 years later, he serves as Interim Rabbi at Temple Ohev Sholom in Harrisburg, PA. Over his career, Marc has served in 3 previous communities rebuilding congregations, and been active in Justice and Interfaith work locally, regionally, and globally. He feels blessed to bring the legacy gifts his teachers have shared with him into his work and community consulting, praying to continuing growing with our community over the years of service with us.
Marc's primary focus as Rabbi roots in a several thousand-year-old precept found in Pirke Avot (amongst the earliest of Rabbinic writings): "If I am not for myself, who will be for me? If I am only for myself, what good am I? If not now, when?" As he sees it, community building is Torah's primary goal. Our work in faith must take care of everyone, not just those in our circle. He works to bridge the chasms that alienate people from each other. In that role, he has served in many local, regional, national, and international leadership capacities and plans to continue paying forward the many blessings he has experienced as he serves as Interim Rabbi at Temple Ohev Sholom.
Rabbi Marc's justice work spans a lifetime. He helped end the male/female separation in Kiwanis Youth in high school and co-planned and led the 2000 march on Columbia, SC, to remove the Confederate flag from atop the South Carolina Statehouse. He actively works in peace and pluralism across the United States and Israel/Palestine. Promoting race, gender, and sex equality, Interfaith cooperation and communication, and working with communities on all sorts of social justice issues have been pillars of his rabbinic work.
Rabbi Marc has been widowed (the late Cindy Kline) and remarried. His wife, Lori Bernard, and he claim seven grown-up children, three children-in-law, and two grandsons between them.
Marc loves meeting for coffee and getting to know people – let us know how we can schedule time for you to share.