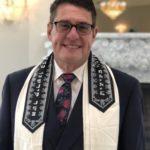 Peter Kessler
Rabbi
[email protected]
Rabbi Peter Kessler has been the Senior Rabbi at Temple Ohev Sholom in Harrisburg, Pennsylvania, since 2001. He was born and raised in Chicago and received his B.S. degree in Business Management from the University of Illinois. He received his Master's Degree and Ordination from the Hebrew Union College-Jewish Institute of Religion in 1995 and 1996, respectively.
Rabbi Kessler is proud of his extensive work in interfaith and community outreach and his vision for a congregation that is open and welcoming to all types of Jewish families. He believes that our synagogue should be a place for worship, learning, and a spiritual home for all of our members. Rabbi Kessler has an especially warm relationship with our community's children and senior adults.
He is the president of the Rabbinical Council of the Jewish Federation of Greater Harrisburg and serves on the board of Hospice of Central Pennsylvania. He makes his home in Uptown Harrisburg with his son Floyd.