Friday evening Shabbat services are also live-streamed at 6PM (unless otherwise noted) on our YouTube channel at www.youtube.com/TempleOhevSholomHbgPa.
If you need assistance with attending services in person or online, please call (717) 233-6459 or email [email protected].
Would you like to be a part of the team of members and staff that puts on a Friday night Shabbat Service? We'd love to have you participate as a Shabbat candle lighter, usher, announcements reader, or another part of the service that is meaningful to you.  We've made it easy to sign up at www.timetosignup.com/danatthebat  or email [email protected].
Check out our Facebook page at www.facebook.com/OhevSholom
June
June 7th – Temple Ohev Sholom's Social Action Committee as they join with the Religious Action Center's Pennsylvania division is hosting an Action & Advocacy Day on Wednesday June 7th here in Harrisburg where they, POWER and reform Jews from across the state will be coming together and meeting with our legislators. On Monday, May 22nd (the day after our Community Walk), they are holding a virtual call to learn more about the June 7th plans. I will add details about this to our calendar for everyone's awareness.
Join Us in Harrisburg! 

RAC-PA is going to Harrisburg! Join us for POWER for a Moral Budget: Action & Advocacy Day on Wednesday June 7th. Reform Jews from across PA & members of POWER Interfaith will be meeting with our legislators and joining in meaningful interfaith action in pursuit of just and equitable 2023 budget.

Come with us to Harrisburg to advocate for:

Fair and full funding for public education
Increasing the minimum wage
Sustainable homes repair

The day will run from 10 a.m.-4 p.m. Specific agenda, transportation details, location & registration coming soon.

Prepare with the RAC-PA Statewide Call on Monday May 22nd, 7:30-9:00pm on Zoom. Come get connected with RAC-PA & get important information about what to expect on June 7th.
Temple Ohev Sholom presents Senators Night! Friday June 16th. Services at FNB Field on City Island at 6PM, Game at 7PM. Tickets are only $13. Each ticket sold raises money for the Temple! Here's the link to purchase your tickets: https://fevogm.com/event/Templeohev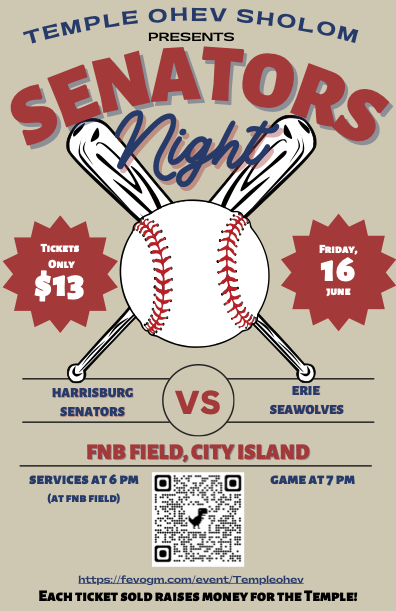 Harrisburg Senators vs Erie SeaWolves
Event Jun 16, 2023 7:00 PM EDT
FNB Field, Harrisburg , PA
Tickets: $13.00
Purchase Deadline: Jun 16th @ 5:00pm EDT
Click here to purchase your tickets: https://fevogm.com/event/Templeohev
July
JULY 2, 11:00 AM – BRUNCH & BOOKS BOOK SELECTION:
Apeirogon by Colum McCann
Enjoy a pot-luck brunch!
LOCATION: Karen Ball's She Shed 4340 Fargreen Road  Harrisburg, PA
Please RSVP to Bernice Hausman [email protected] by June 30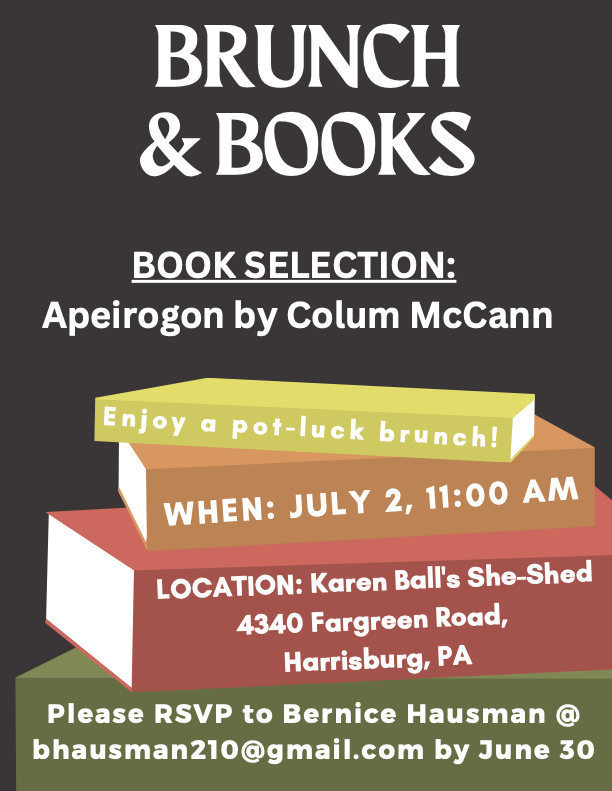 August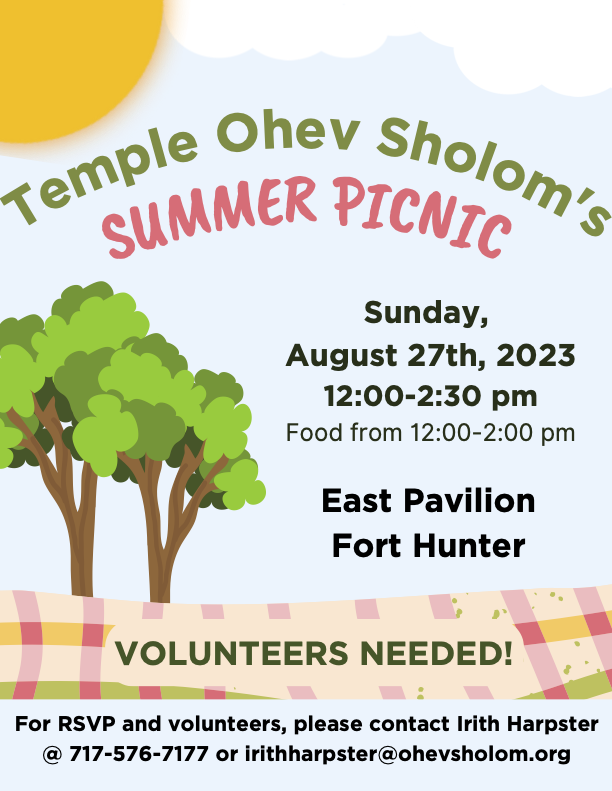 Temple Ohev Sholom Full Calendar