Welcome! See below for some of the upcoming events, and our full calendar further down.
Friday evening Shabbat services are live-streamed at 6PM (unless otherwise noted) on our YouTube channel at www.youtube.com/TempleOhevSholomHbgPa. Check out our Facebook page at www.facebook.com/OhevSholom as well. If you need assistance with attending services in person or online, please call (717) 233-6459 or email [email protected].
All January – Temple Ohev Sholom and Sisterhood's Social Action Committees are collecting new men's and women's socks through the month of January 2023. Donations will be given to the Bethesda Mission and Downtown Daily Bread. Please drop off donations during Religious School or in the Sanctuary lobby.
February
Thursday February 23rd – Join Temple Ohev Sholom for a Comedy Night to Laugh Out Hate. Starting at 6:30PM.
Tickets are open to the public and available here.
March
Friday March 24 6:00pm with oneg to follow.
Join us for a shabbat service honoring Lillian Rappaport for her 26 years as religious school principal!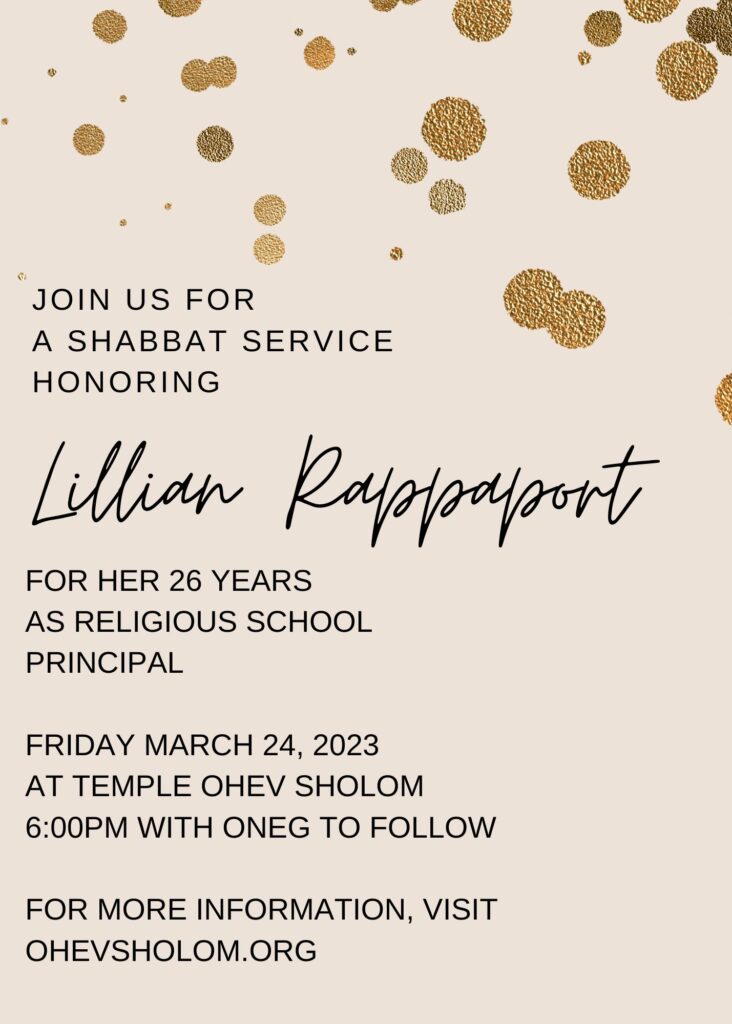 April
On Monday evening, April 17, 2023 at 7:30 pm, Yom Hashoah (Holocaust Memorial Day) will be commemorated with the "Reading of Names" program to be held at Temple Ohev Sholom. We hope that you and your family will be able to attend this special opening service and stay for a portion of the Reading of Names program.
In an effort to pass the torch of remembrance to the next generation, students from congregational Religious Schools and the Silver Academy will participate in the opening ceremony. They will also read names with their parents immediately following the opening ceremony.
The Reading of Names is a vigil in which the names of those who perished during the Holocaust are read continuously over a period of 24 hours. "Unto Every Person There is a Name" seeks to dignify the memories of victims of the Shoah (the Nazi Holocaust) by reading their names aloud.  These victims were stripped of their names by their oppressors and tattooed with numbers.  Through the public reading of the names of Holocaust victims, this program strives to restore a portion of their humanity and to retrieve them from the lost depths of anonymity.
Temple Ohev Sholom's time slots for reading are Tuesday, April 18 from 3:00 am- 4:30 am and from 1:30-3:30 pm.  For more information or if you would like to sign up for reading, please contact our congregational representatives, Gloria Kaplan for the middle of the night slots (via ZOOM) at [email protected] or Judy Heckert for the afternoon slots (in person) at [email protected]. You may also contact Jenna Rappaport at the Jewish Community Center at 717-236-9555, ext.3402 ([email protected]).
Here is our full calendar:
Temple Ohev Sholom Full Calendar